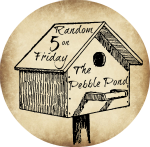 1. Delani's creative lunch table--the Wii Fitness board
2. My new sewing machine. 3. Sewing doll clothes.
4. Fun and fellowship with friends! 5. Game night with dad.
1. I was a complete failure in the picture department this week. Oh, well that's life!
2. I believe I set a record this week. I had Morning Time, which has been dubbed Devotions in our house, every single day this week!
3. A couple of months ago I bought a brand new
Janome Horizon Memory Craft
sewing machine, which I hadn't had a chance to try out. This week I was forced to so I could do my review for
Rosie's Doll Clothes Patterns
review that I recently posted. I spent quite a bit of time first watching the DVD that came with the machine so I could use it and then putting to good use and sewing up some doll clothes for Delani. Now I just need to keep sewing and getting some skirts made for the girls.
4. I had something exciting happen this week. Every week I schedule out my kid's work from my master list I make for each term. For a while now I've wanted to take over doing it, but it just seemed he had a hard time evening following what I've written down let alone scheduling it out.
While he is at art on Monday morning I have been writing out his schedule. Well, last week I forgot to take his planner with me to write out his schedule and by the time I went to bed I just was too tired to do it. He came in my room Tuesday morning looking for it, so I told him to just look at the master list and start working through it. To my surprise he sat down and wrote out his own schedule! I was one excited mama. He now will have a new responsibility since I now know he can do it!
More British Literature!