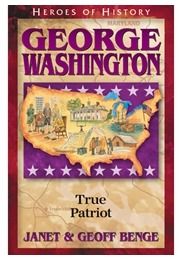 George Washington: True Patriot starts with the reader getting a first glimpse of George seeing the enemy--the British Army, an army he had one time fought for. He was now a patriot and commander-in-chief for the new Continental Army.
The story then takes the reader back in time and covers his boyhood, the loss of his father, his relationship with his half-brothers and siblings. He then grow into a young man who takes up surveying and then joins the British army to fight the Indians. He then marries Martha Custis and eventually inherits Mt. Vernon.
Then as the American colonies become dissatisfied with England's rule over them he enters a life of politics and becoming part of the Continental Congress, becoming the commander of the Continental Army, fighting and winning the Revolutionary War. The rest of the book tells the story of how he became the first President of the United States, his presidency, his return to Mt. Vernon, and his death. The reoccurring theme is his and his belief in a new nation and the loyalty he felt towards it.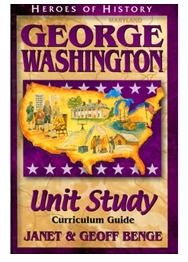 The George Washington Unit Study Curriculum Guide includes ideas such as:
Using famous quotations

Having a display corner

Reading comprehension questions

Essay questions

Creative writing suggestions

Hand-on projects

Arts and crafts

Community links

Book recommendations

Video recommendations

Geography ideas

Timeline

And more...
I received
George Washington: True Patriot
in e-book format for my Kindle. We read the book aloud to Chantry (11) and Destini (13) for our read aloud time. After each chapter I used the Chapter Questions from the Unit Study Curriculum Guide. When we finished the book Destini worked on creating timeline and Chantry worked on map work. I also checked out some of the recommended books from the library and the kids spent some time looking through them at their leisure.
Our history study from last school year had ended at the Revolutionary War and even after all we had read last year about George Washington, this story wasn't redundant in any way to anything we had read. In fact, it seemed liked it filled in holes to help the kids round out their knowledge of George Washington.
I rely on narration when we read history and biography, but this time I chose to use the Chapter questions. I really liked that the first question asked, "What is (vocabulary word)? Use this word in a sentence." This prompted a lot of discussion and a few uses of the dictionary. Also, some of the questions would ask what a certain statement meant and that also prompted a lot of thoughtful (and sometimes funny) conversation.
I will admit I personally have a hard time with unit studies. They just don't appeal to me, so I went through the guide and we worked on mapping activities and the timeline. I wanted to use some of the DVD recommendations, but couldn't get access to most of them. We did get books from the library that were recommended which my kids enjoyed. I also felt the writing activities could be easily turned into narration ideas if you use written narrations.
I have been very pleased with the YWAM biographies that we have read. It is great to find books that can be enjoyed by the whole family. I look forward to adding more of them to our personal library. The Unit Study Curriculum guides are a great asset to round out your learning experience.
George Washington: True Patriot
is available at YWAM Publishing in hard copy, Kindle, and Nook editions for
$6.99
. The
George Washington Unit Study Curriculum Guide
is available in paperback format for
$7.49
.