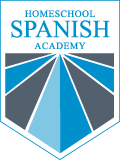 For the last few weeks Caleb has been learning Spanish through
Homeschool Spanish Academy
, which we have been doing for review.
Homeschool Spanish Academy
is offers a unique way to learn Spanish online through Skype with interactive lessons and native Spanish speaking teachers which give one-on-one help and instruction.
Caleb used the
High School Program
which is for ages 15-19 and did a half-semester that offered one 50 minute class per week. The High School Program offers a 1/2 for Level 1A (a semester) and a whole credit when they complete the whole of Level 1. You can see a break down of the High School Lesson
here
.

The sign-up was straight forward. I signed him up using my email, but it was possible to sign him up with his own email. Once I was at the Members Dashboard it took me a few minutes to figure out where I had to go to sign him up for his lessons, but after a few minutes of trial and error I figured it out.
I then signed him up for his classes. I did do all 7 of them at the same time since I wanted him to have the same instructor each lesson. Within a few days of picking his class and instructor dates I received an email from
Homeschool Spanish Academy
saying that two of the class time I picked were not available. I went back in and re-scheduled and was still able to get a time that worked for us and the instructor we desired.
After a week or two of doing this I realized a few sessions I had scheduled weren't going to work for us and thankfully rescheduling was an option with a 24 hour notice. Again, rescheduling was easy and we were able to still do the lesson with the same instructor and in the same week.
Caleb worked with Marleny who was very, very patient with him. Marleny would ask him questions and talk with him for a few minutes before heading into the lesson. When the lesson began she would switch her screen from her picture to a screen that would show the current lesson on the screen. Then they would take the time going through the different words and saying them with the right pronunciation.
I noticed at times while working on the lesson or a quiz that at times he would get frustrated, but she would just talk with him and ask questions and then take a key word from his answers and tell him how to say it in Spanish. Many of the questions, though they didn't seem to be, were usually relevant to the particular lesson he was doing. This seemed to help him and eventually he would start remembering what he needed. She also used the keyboard and wrote words out for him that they talked about.
After the lesson I would receive a email with the lesson he should study and review. Twice we had to turn in a section of the homework for a quiz. This was easy to do and was very easy to do.
I do want to mention here that while out online speed qualified to do Homeschool Spanish Academy we did have problems with our connection at times. The first lesson was the worst, but I finally figured out to turn off the Norton firewall and it got better, but I think every lesson he had there was a disconnection at least once. We learned to just sit and wait for our tutor to call us back and then the lesson continued on.
I really like the concept behind
Homeschool Spanish Academy
, but I had one of my introverted children using it, which I think made it less successful. Caleb thought the lessons were interesting and he said they helped him with pronunciation and understanding tenses, but I noticed that it took until the sixth lesson for him to get used to the whole idea of having a live tutor and loosen up a bit.
I think
Homeschool Spanish Academy
is a wonderful option for a child who is either eager to learn a foreign language or very outgoing (or both for that matter). This will remain an option for when Destini gets into high school and needs a credit in Spanish.
Homeschool Spanish Academy's
High School
One-on-One Pricing is as follows:
Half-Semester (1 class/week for 7 weeks) - $99.99
Full-Semester (1 class/wee for 15 weeks) - $169.99
Half-Semester (2 classes/week for 7 weeks) - $174.99
Full-Semester (2 classes/week for 15 weeks) - $299.99
Prices are also available for 2 students at one time
here
.