There are a lot of safety rules to teach to children and I'm always excited to find a resource that is appealing and fun, yet teaches safety. We recently received for review a book from
Greene Bark Press
that does just that!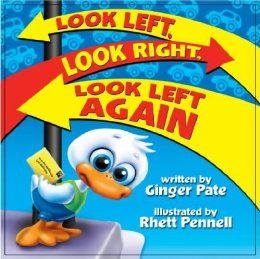 Look Left, Look Right, Look Left Again
by Ginger Pate tells the story of Wally Waddlewater who just finished making a birthday card for his Grandma and head to town to mail his card. As he goes to cross the street a car honks at him. Thankfully, his mama his nearby and pulls him out of harms way. Wally is a little confused since he looked left and then right and he didn't see any cars. His mama remind him that he has to look left again since cars go fast.
As he continues on his journey to mail his card he encounters other obstacles to crossing the street. A ball, a bus, fire trucks, trains, and more. He also learns how to cross the road at a busy intersection by waiting for the correct light to turn and then crossing in the crosswalk.
After that day Wally continues to practice the correct way to cross the street and one day his mama says he is ready to walk to his Grandma's house all by himself. Wally goes through his routine of "Look, left, look right, look left again." and makes it across the street all by himself.
I read
Look Left, Look Right, Look Left Again
to Delani. It does a great job of teaching children what they should do when they cross the street. The pictures are cute and the colors are eye-catching. The dialogue is catchy and easy to remember, so much so that Delani would walk around saying the phrase whenever we crossed any kind of traffic, including store parking lots. Now I call that success!

Look left, look right, look left again...