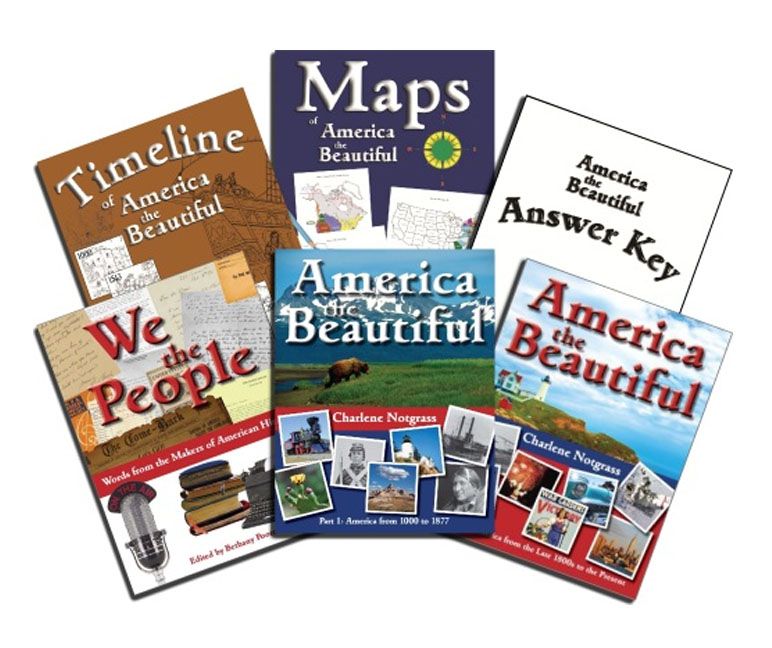 America the Beautiful Curriculum
is unit study curriculum that covers history, geography and literature all in one year for Grades 5-8. There are thirty units which cover a certain time period in history and are in chronological order. There is a list literature titles that is used along with the lesson. These can be bought from
Notgrass
or you can purchase your own titles or use your library.
Each unit is divided into five types of comprehensive lessons.
Our American Story - Covers a major event in America's history.

God's Wonders - Covers an amazing piece of God's creation that is in America.

An American Landmark - Covers a description of a landmark in America.

An American Biography - Covers an historical person who lived during that time period.

Daily Life - Covers how people lived and worked during that time period.
America the Beautiful Part I - Hardback book with 75 Lessons covering America from 1000 to 1877

America the Beautiful Part II - Hardback book with 75 Lessons covering America from the Late 1800s to Present

We the People - Hardback book which has a collection of 150 original source documents including letters, founding documents, speeches, songs, poems, stories and more. (sample)

Maps of America the Beautiful - Paperback book containing 30 maps to be used with the lessons.

Timeline of America the Beautiful - Paperback book with an illustrated timeline with facts included and places for facts to be added.

America the Beautiful Answer Key - Paperback book with answers for Timeline, Student Workbook, Lesson Review, and vocabulary assignments.
I also received:
So how does this work? The America the Beautiful books are the main source that will be used. At the beginning of the unit there is a short overview which explains what the students will be learning. Then are the five lessons. One lesson is to be read per day which would give you a week full of lessons. At the end of each lesson is a suggested list of activities which includes such activities as:
Thinking Biblically assignments - Application of lesson to the Bible

Creative writing assignments - Writing a descriptive paragraph, a letter, a newspaper article, etc.

Vocabulary assignments - Looking up definitions for vocabulary words.

Family activities - A suggested project to do one time a week.

Reading from We the People.

Literature assignment from list of literature books.

Assignments from Timeline of America

Assignments from Maps of America Book

Assignments from Student Workbook or Lesson Review (or both).
I used
America the Beautiful
with Chantry (5th) and Destini (7th). We did the first two units and then I let them pick which section they wanted to do next which and they picked to start at the American Revolution.
Since I used it with both of them I read aloud each lesson. When each lesson was finished we would go to the activities. We did the literature selections from We the People and the literature book, which was Amos Fortune, Free Man by Elizabeth Yates .
I used Chantry as my main reviewer for the bulk of the activities. He would then do the map activity and usually the vocabulary activity. I bypassed the creative writing activities since he isn't quite up to that point yet in his writing skills and the family activity was avoided since projects are NOT my thing!
Destini worked in the
Lesson Review
book answering the questions for each lesson and doing the quizzes. There was a total of five questions per lesson to be answered. The quizzes consisted of multiple choice, matching, and true or false with a place to write a correct answer for a false statement. For each literature book there was a section with five questions also.
Inside textbook
What I enjoyed about this curriculum:
First off the America the Beautiful textbooks are beautiful books. They are chocked full of beautiful pictures and printed on very sturdy glossy paper. There is a lot of facts and information included. The We the People book definitely enhanced the lessons and had a lot of interesting tidbits and stories. I also really liked the literature book selections, which I thought were necessary to counterbalance all of the factual information included.
Map Book
I found the
Review Book
very basic and very easy to use. It is not overwhelming in the least for a student in 7th or 8th grade. I think my favorite was the
Maps of America the Beautiful
since all the maps and assignments were in one place. I could tell Chantry what he would need to do and this was something he could do on his own without my help. That was nice!
Chantry's Unit 1 Activities
What I didn't care for:
I am a big fan of using living books for history and the America the Beautiful textbooks are NOT living books. They are written very factually. My kids had a hard time with the lessons changing topics every day. They would be enjoying the history lesson and then the next lesson would jump off into geography or a historic place. Since the geography and historical place covered many things that are in the present day it seemed kind of random and out of context with the history lesson. The history lessons and biography lessons were the most interesting to the kids.
I also didn't care for the timeline book. I found it confusing and there were a lot of entries already filled in or pictures that covered big areas of the timeline which I think defeated the purpose of keeping a timeline.

I also found this book hard to read aloud. There were so many references to the pictures in the reading. I ended up not reading the portions on the pictures. I think this would have been more enjoyable to read to just have small captions under each picture and then let the kid's look at the pictures before or after the reading.
My overall thoughts:
America the Beautiful Curriculum
is a very solid history and geography curriculum. If you are looking for a textbook style curriculum this would fit the bill. Also, if your child eats up fact, this would be right up their alley.
I think this is a great curriculum to be used with 7th and 8th graders rather than the younger grades unless your child reads and writes very well. It is also lends itself to get a child to work independently. I think the textbook reads better if reading to yourself rather than as a read aloud.
Even with the literature selections I found this curriculum too dry for our tastes, but these books will stay on my shelf to used as reference books. I think they will come in handy we get around to covering the more modern period of America.
Additional map and timeline books are also available along with a set of the literature books.