Learning a foreign language has not been near the top of my list due to the fact that I don't know a foreign language. Trying to teach something to my kids that I don't know is quite overwhelming, until recently when we were sent
Spanish for You!
for review.
Spanish for You!
is a curriculum for grades 3-8 written by Debbie Annett that can be used at home or in the classroom.
Spanish for You!
was written to be an affordable, flexible, easy to use, fun program that can be used by a child for self-study, as a family, or in a classroom setting. The curriculum is sold in themed packages which can be done in any order.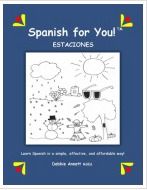 We reviewed
Estaciones
, which focuses on weather, for Grades 3-8. I received a soft covered book in the mail and a download link to download the rest of the program which included:
Audio files of book

Lesson Guides for grades 3-8 in PDF

Self-checking worksheets for grades 3-8 in PDF

Set of flashcards in PDF

A bonus audio of book by a native speaker
I decided to use this with my 4th grader, 6th grader, and my highschooler. He is currently working through a Spanish program on computer and I thought this would be a good reinforcement to go along with it, plus it had the added benefit of reading and writing sentences written in Spanish.
After I had downloaded everything, I printed off all three sets of lesson plans--3-4, 5-6, and 7-8. After that I just jumped in with both feet and we took off. It is suggested that you work four days a week, which we tried to do, but the author also suggests to go at your own pace. I found it was pretty easy to get through one lesson per day and only found that once or twice that we took a lesson a little slower than suggested.
One thing I noticed right away is that the lesson plans for grades 3-4 are only 27 weeks while the lesson for the higher grades are only 24 weeks. This made it a little harder to do together, so I ended up following the lesson plan for 7-8 for all three children, but using the worksheets that were suggested for each level. I think for the most part this worked well for us, but I can see how it would have benefited my 4th grader to go a little slower.
Working on their worksheets
We did the lesson together and would follow the lesson guides which usually included listening to the audio clips, making flash cards, and doing a worksheet. We also did quite a bit of review with the flashcards at the beginning of each lesson. There is a list of games and activities included, which would also be a great enhancement. (I am not a game person and personally preferred the use of the flash cards over the games.)
I really like how the worksheets reinforced the vocabulary they were learning and required them to not only say the words, but helped them understand how the language works. That being said some of my biggest frustration with the program was the worksheets. It seemed at times that there were quite a few words to translate that we hadn't learned yet. Thankfully, the worksheets were self-checking and I could look at the answers and just give the kids the right word they needed.
Looking back at what we have covered over the last month, I am amazed at what my kids have learned from this simple program. In fact, they were recognizing Spanish words on signs and were able to tell me what that word meant.
Spanish for You!
was a great introduction to Spanish for my younger kids and a wonderful addition for my highschooler's study of Spanish.
Spanish for You!
Estaciones
is available as:
Grades 3-8 Package
- $64.95 (with softback book or e-book)
Grades, 3-4
, 5-6, or 7-8 - $39.95
Additional Books
- $12.95