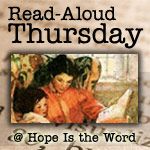 Book Description:
John's heart sank. A British man-of-war was plowing through the frigid waters of the Atlantic Ocean in hot pursuit of his ship. If the British caught up with the Boston, John would be hanged. He had proudly signed the Declaration of Independence and was carrying the colonies' secret papers. He couldn't be captured now!
Growing up in Massachusetts, longing to be a farmer like his father, John Adams never imagined the vital role he would one day play in the transformation of the colonies into an independent American nation. As the injustices of British rule stirred up the colonists to revolution and independence, this rising young lawyer became and influential member of the Continental Congress and a passionate advocate for freedom.
As a foreign diplomat for the young United States, first vice president, and second president, this true American patriot held firmly to his integrity and left an uncompromising legacy: independence forever.
My thoughts:
I wanted a biography of John Adams for Chantry to read for his last half of school. I have always passed and looked at the
YWAM Publishing
booth at our local homeschool convention, but have never bought or read a book until I found
John Adams: Independence Forever (Heroes of History)
by Janet & Geoff Benge. My first intention was for him to read it to himself, but I soon saw that we needed to do it as a read-aloud.
Even though this is a biography,
John Adams: Independence Forever
, is in no way a dry and dusty book just filled with facts. It is written in a very engaging style and kept his interest (and his sister's when she was in the room) throughout the whole book. The book also has many excerpts from John's writing and letters which were a nice addition to the story. When the story was finished Chantry had a very solid idea of who John Adams was and what he had done in his life time.
I have to admit I was very impressed with the writing quality of this story and will definitely be adding more of these stories to our personal library. If I had any complaint it was how long the chapters were (for a read-aloud), but since this was a 'school' book we broke it up with narrations. If you are looking for interesting biographies I highly recommend
John Adams: Independence Forever
and others published by
YWAM Publishing
.
See what others are reading aloud over at
Hope is the Word
.