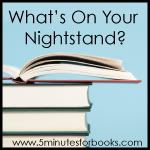 I didn't think that I would have much reading accomplished in December, but I guess I was wrong. My parents came for Christmas and I also spent quite a bit of time sewing (thus all the audio books).Right now I'm really focusing on getting a couple other books read before the end of this year so I haven't really thought through what I want to read in January, so my list may end up being very tentative for January.
My Nightstand for January:
From my
November
nightstand I read:
Sprig Muslin
by Georgette Heyer
(This was an okay read by Georgette Heyer. I've read better.)
Revolutionary Parenting: What the Research Shows Really Works
by George Barna
(This came highly recommended to me. There were a few worthy points, but for the most part it was just an okay read when I wasn't disagreeing.)
I am currently reading:
A Philosophy of Education
by Charlotte Mason
(I am trying to get this finished before 2012 is finished. This is a hefty piece of work that is making my mind work too hard!)
I also read:
Full Moon
by P.G. Wodehouse
(A Blandings novel. Wodehouse always makes me laugh and comes up with the craziest plot lines.)
The Matchmakers of Butternut Creek
by Jane Myers Perrine
(This a book I discovered on the new shelf at the library. I took a chance on it since I really enjoy reading about the Harvey Girls. I enjoyed this more than I thought. It also dealt with World War I soldiers and the Spanish Influenza.)
Naughty In Nice (A Royal Spyness Mystery)
by Rhys Bowen
(Reading through this series)
Wish You Were Eyre (Mother Daughter Book Club)
by Heather Vogel Frederick
(The last book in the Mother Daughter Book Club series. This time the focus in on Jane Eyre and the girls all have new experiences and have to practice "getting their Jane on." I have enjoyed this series, but felt this book was a little lacking compared to the earlier books.)
Cleaning House: A Mom's Twelve-Month Experiment to Rid Her Home of Youth Entitlement
by Kay Wills Wyma (
review
)
The Guilt-Free Prayer Journal for Moms
by Jeannie St. John Taylor
(A handy book I used during my devotional time. Its focus is on praying for your children.)
I listened to:
The Convenient Marriage
by Georgette Heyer
(I absolutely loved this book. This story was set during the Regency Period and was a lot of fun, though there were a few times I wanted to plug my ears since I couldn't stand the suspense.)
Murder on the Orient Express: A Hercule Piorot Mystery
by Agatha Christie
(Piorot solves a murder on the Orient Express. The murderer is a surprise. I am discovering I enjoy the books that Hastings does not appear in.)
Peril at End House: A Hercule Poirot Mystery
by Agatha Christie
(Piorot and Hastings work together to solve a murder at End House. This was an okay
read.)
Three Act Tragedy: A Hercule Poirot Mystery (Hercule Poirot Mysteries)
by Agatha Christie
(I would have to say this has been my least liked Poirot Mystery so far. Very different and a sad ending.)
See what others have read over at
5 Minutes for Books
.