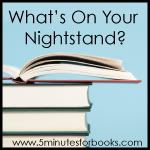 September reading:
From my August post, I read:
These Old Shades
by Georgette Heyer
Don't Make Me Come Up There!:Quiet Moments for Busy Moms
by Kristen Welch
I also read:
Devil's Cub
by Georgette Heyer
The Nonesuch
by Georgette Heyer
Young Men in Spats
by P.G. Wodehouse
Secrets of the Heart
by Jillian Kent
Mom's Ultimate Guide to the Tween Girl World
by Nancy Rue
A Positive Plan for Creating More Calm, Less Stress
by Karol Ladd
QBQ!The Question Behind the Question: Practicing Personal Accountability at Work and in Life
by John G. Miller
I listened to:
Little Men
by Louisa May Alcott
I didn't read:
Beyond All Meausure
by Dorothy Love - I had to return this to the library before my trip last month and I am now on the waiting list and hoping to read for this month.
See what others are reading over at
5 Minutes for Books
.