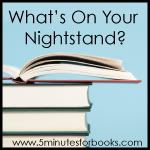 Books on my nightstand for December.
From my November post I read:
Elvis Takes a Back Seat
by Leanna Ellis
(review)
Family Driven Faith
by Voddie Baucham
No Place for a Lady
by Maggie Brenden
(review)
Menu for Romance
by Kaye Dacus
I also read:
The Pioneer Woman Cooks
by Ree Drummond
(review)
William S. and the Great Escape
by Zilpha Keatley Snyder
The Christmas Secret
by Donna VanLiere
I am currently reading:
From a Distance
by Tamara Alexander
Dear Pen Pal
by Heather Vogel Frederick
I didn't get to:
These is my Words
by Nancy E. Turner (I'll try again at another date!)
The Comforts of a Muddy Saturday
by Alexander McCall Smith (I am forgetting about this title for right now.)
Talk of the Town
by Lisa Wingate (I'm adding this title to this month's nightstand list.)
This has been a really hard month for reading. Late night, busy days and a teething baby don't leave much time to get cozy with a book. I am looking forward to next month where hopefully life returns to a normal pace.