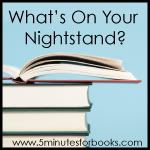 Also not pictured because they are sitting on the hold shelf at the library:
No Place for a Lady
by Maggie Brendan
Menu for Romance
by Kaye Dacus
From a Distance
by Tamera Alexander
Talk of the Town
by Lisa Wingate
Wow! What a lot of reading I have lined up for December!
From my October post I read:

Organizing Your Day
by Sandra Felton & Marsha Sims (
review
)
The Shaping of a Christian Family
by Elisabeth Elliot (
review
)
The Promise of Lumby
by Gail Fraser (
review
)
The Lost Art of Gratitude
by Alexander McCall Smith (
review
)
Blogging for Bliss
by Tera Frey
I also read:
The Bride Backfire
by Kelly Eileen Hake (
review
)
Parenting the Heart of Your Child
by Diane Moore (
review
)
Look to the East
by Maureen Lang (
review
)
Montana Rose
by Mary Connealy (
review
)
The Noticer
by Andy Andrews (
review
)
I may have read one or two others, but Shelfari is off reading a short novel and won't let me see my shelf!
I am currently reading:
Elvis Takes a Back Seat
by LeAnn Ellis
Family Driven Faith
by Voddie Bauchman, Jr
I didn't get to:
The Secret Diaries of Charlotte Bronte
by Syrie James due to the fact I ran out of time and it was due back to the library.