Since I decided to participate in the
Lucy Maud Montogmery Reading Challenge
I dug out my grungy copy (pictured below)of The Blue Castle.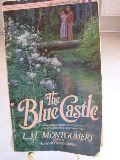 Valancy Stirling has spent her past 29 years living a very sheltered life being a docile daughter and the family joke to the "Stirling Clan". The only ray of light in her world are the John Foster books that she reads and her "Blue Castle" that she dreams about. One day Valency receives some news that changes her life, she defies her mother and the "Stirling Clan" and moves out to take care of Roaring Abel's (the town drunk) fallen daughter, Cissy. Gradually a new world opens up to Valency and she becomes friends with the notorius Barney Snaith. After Cissy's death, Valency and Barney get married. Cut off from her ridged and snobby family, Valancy and Barney make a life for themselves in their "Blue Castle". Then one day their marriage is put to test. Will Valency's "Blue Castle" survive?
As I have stated before this is my favorite non-Anne book. If you haven't read it I suggest you go get it and plan to enjoy a great story. It is a lovely 20th century fairy tale.