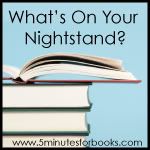 I have survived April (well, most of it) and my kids have completed their competition and now life goes back to normal. Even in all the busyness I was able through 6 books, thanks to one book having three combined in it. It still may take me a week or two to get my act together when it comes to reading since the house must be put back in order and school work becomes a top priority!
For May:
From
March's Nightstand
I read:
What He Must Be:...If He Wants to Marry my Daughter by Voddie Bauchman - A great read on preparing young men (and young women) for marriage with a lot of focus on character and their spiritual lives.
Just Enough Jeeves by P.G. Wodehouse - This book included Right Ho, Jeeves, Joy in the Morning, and Very Good, Jeeves. I got this book from the library so I could read "Joy in the Morning" but I ended up reading the other two also. Of course, you can never go wrong with Wodehouse.
The Virgin in the Ice by Ellis Peters - Another Bro. Cadfael book. I am really enjoying this series.
I listened to:
All Creatures Great and Small by James Herriot - In the midst of getting my kids prepared for competition I decided I needed an escape so I checked what I had in my Audible list and picked this one. I read this years ago, but it was just as good the second time around and was just what I needed.
And if your interested in seeing what my kids did you can head on over to my
Facebook
page and I have their performances and some of their entries posted.
See what others have read over at
5 Minutes for Books
.