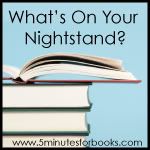 December was an okay reading month, though I don't think I read anything really deep. This year I didn't make a list of books I wanted to read and have felt quite lost. I plan to change that this year. For January I keeping my nightstand light since my parents are coming for a visit.
For January:
From November's Nightstand I read:
The 2 Degree Difference: How Little Things Can Change Everything by John Trent - The first part is told in a story form and then the last part goes through the changes the character in the story goes through and how we can apply small changes to things in our lives. An encouraging read.
Secrets of a Charmed Life by Susan Meissner - I came across this book in the bookstore I manage and it looked interesting. This ended up being such a good story about a young woman who survives the Blitz in London. It was hard to put down. Highly recommended!
I chose not to read:
Villette by Charlotte Bronte - This is the second month I didn't read this book. I bought the audio book of Villette and heard that a book club that I would love to attend is reading Middlemarch for the January meeting. So I veered off and have been listening to that instead hoping that I can finally make it to a book club meeting and if I don't--well, I won't be too sad since I really enjoy Middlemarch.
I also read:
See what others have read over at
5 Minutes for Books
.