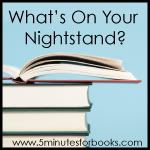 June ended up not being too bad when it came to reading. I did do a lot of my reading in the end of the month since my parents were here in the beginning. Sleepless nights always help my reading list, though I can't say they help me very much.
I have four books down for the month of July. I intend on reading more, but right now I'm at a loss at what to read. I have books sitting on my shelf, but they just aren't grabbing my attention. So for right now I am leaving it as it is and will read as the spirit moves!
For July:
From May's
Nightstand
I read:
I also read:
The Blue Sapphire by D.E. Stevenson - A good little read.
The Duke's Dilemma by Elizabeth Chater - I read another of Chater's books last month and felt so-so about it. I didn't think I would read any more (My version is a four story pack.) Well, for some reason I ended up reading the next one, which I found to be a much better story.
The Scent of Water by Elizabeth Goudge - Wow, Goudge is a wonderful writer. Beautifully written story.
I listened to:
David Copperfield by Charles Dickens - To be honest I really didn't have much of a clue of the story of David Copperfield beside the fact that it is considered autobiographical. I found about two-thirds of the book to be kind of tedious, but then it seems that in the last third of the book it all of a sudden got very interesting. This was a book for The Classic Club so I will have a more thorough review coming up.
See what others have read over at
5 Minutes for Books
.