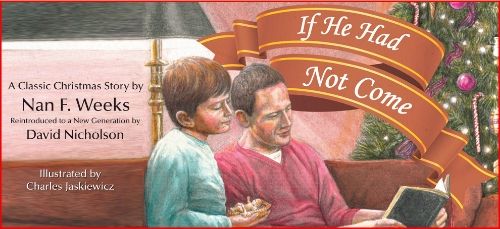 I love a good Christmas book and just in time for Christmas I had the opportunity to review
If He Had Not Come
, a classic Christmas story by Nan F. Weeks, and reintroduced by
David Nicholson
.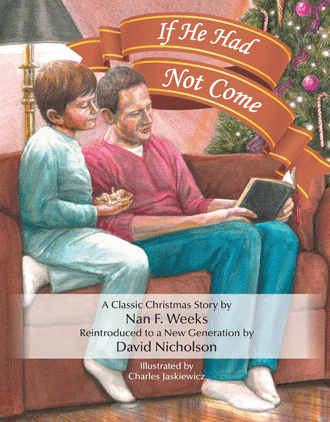 David Nicholson was first introduced to
If He Had Not Come
, which was originally published in 1938, over 30 years ago. He was so touched by the story that he continued to share the story with his family every year. He has now been able to reintroduce it for a new generation with illustrations done by Charlie Jaskiewicz.
If He Had Not Come
tells the story of Bobby, a young boy who is very excited for Christmas. On Christmas Eve Bobby and his dad do their daily Bible reading and the phrase "If I had not come." from the Bible reading rolls around in his head.
Bobby goes to sleep and is soon awakened. He is excited for Christmas but when he goes downstairs there are no Christmas decorations or presents. He then notices that the factory down the road is rumbling. He heads to the factory to see why they are open and is astounded that no one knows what Christmas is. He then heads into town and and continues to ask, but no one seems to have heard anything about Christmas.
He continues on his journey only to find out that there is no church, no children's home, and no hospital, bet every time he is greeted with the message, "If I had not come." Finally, in his desperation he heads back home to look through the Bible his dad read from the evening before only to find...can you guess what he will find?
At the end of the book there is a list of interactive topics to use as a family or even in Sunday School. These are open-ended questions to encourage discussions. There is also a page that goes deeper into the message of the story along with a page on the gospel message.
The illustrations are engaging and one of my favorite things in the story. When everything is "normal" the pictures are in full color, but when Bobby is searching for someone who know about Christmas the pictures are only in partial color. This added so much to the story.
I read this aloud to all my kids ranging from 6-18. My six year old had fun predicting what was going to happen next. I felt this was a sweet story with an important message, though I found the ending a little flat, but we did spend some time discussing it which I think helped in getting . My kid's also noticed how much it reminded them of the film It's a Wonderful Life, which was interesting considering that it wasn't made until 1946.
This would be a great book to add to any Christmas book collection you may have or to make it part of your family tradition. In the hustle and bustle of the Christmas season,
If He Had Not Come
shares an important message of what the world would look like if Jesus hadn't come.
If He Hadn't Come
is available from
David Nicholson
for
$18.95
(hardcover) or
$3.99
(e-book format).
Social Media:
Facebook