Over the past few weeks Delani and I had the opportunity to read two books,
Peter Rabbit's Birthday
and
When Peter Rabbit went to School
for review, which have been re-printed by
Kinder Cottage Publishing
.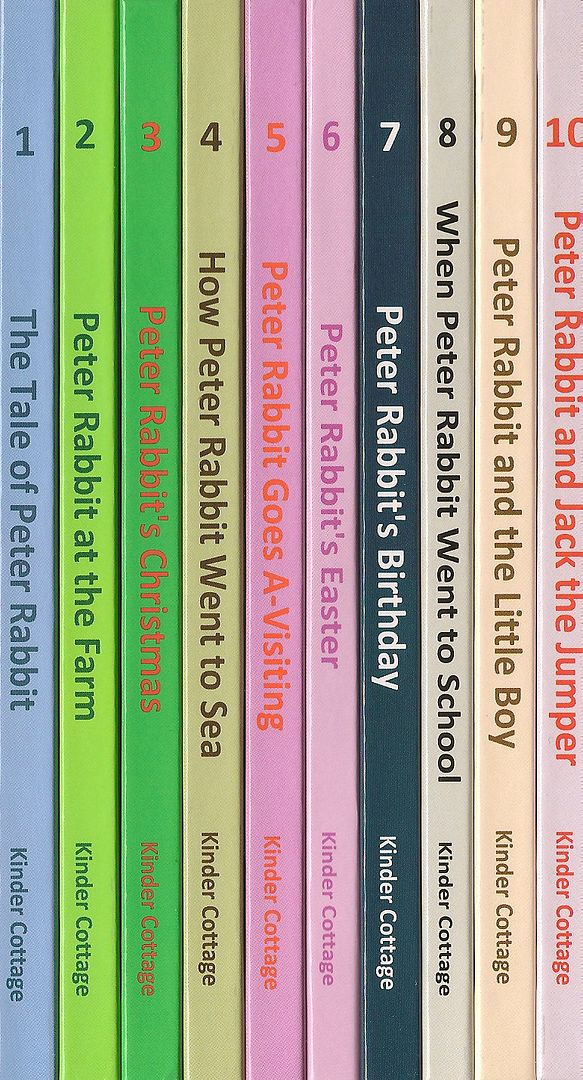 Howard, the founder of
Kinder Cottage
, along with his wife Ann wanted to ensure that their children will grow up to have a love for literature, history, culture, and a Christian faith. Their main goal is to offer quality literature and products for parents of younger children.
One of the series that they offer is the
Peter Rabbit Series
(Ages 5-9) that were originally written by Duff Graham for the Henry Altemus Company over 90 years ago and are now in the public domain. The color illustrations have been beautifully preserved while the text has been adapted in places to bring out of date words into modern terms.
These books are about 5x7 inches in size and come in a hardback cover. The pages are a nice weight of paper and illustrations are one side of the page and the story is on the other side. These little books and are nice to hold in the hand.
Peter Rabbit's Birthday
tells the story of Peter Rabbit, who is a very mischievous rabbit. On the morning of his birthday he wakes up and promptly dumps the flour for his birthday cake all over him. After being cleaned up and receiving his birthday presents from his mother and three sisters he sets out to invite his friends to his birthday party. He experiences many adventures while doing this including falling in the pond and dancing with a monkey. He has so much fun with the monkey he forgot about his party until he realized that he was going to be late. A little boy named Bobby meets him and offers to take him home. When he gets home he behaves perfectly and has a wonderful birthday.
In
When Peter Rabbit went to School
we meet up with Peter Rabbit falling into Mr. McGregor's well. After this experience his mother decides that it time for Peter and his sisters to go to school. Since Peter's father was put in a pie by Mrs. McGregor, she firsts consults Uncle Jack Rabbit, who agrees it is a great idea. Thus Peter and his sisters find themselves at school being taught by Miss Hannah Hare. Eventually the little animals are dismissed for recess after receiving a warning not to play in the woods. As you can probably guess, that is just where Peter goes. This takes Peter on another adventures until he is finally returned to the school where he promises he will never go in the woods again.
I read these aloud to Delani. She liked the stories and especially liked the size of the books. They are perfect for little hands! Her favorite story was Peter Rabbit's Birthday since she really liked the bow-tie he received for his birthday.
I found these were fun little reads. They very much resemble a small picture book, though they is quite a bit of story involved. Though you don't have to read these books in order, I did find that some of the characters involved in the stories had been introduced in previous books. Having read the previous stories probably would have shed more light to the characters that were talked about in the stories we were reading.
One thing I did find disconcerting was the way a paragraph was split up in the middle going from one page to the next. I don't know if this was due to the paragraphs being centered down the page and it just made it hard for the eye to follow. This was not a big thing, but for me it made it hard for the story to flow. Thankfully, Delani did not notice.
Peter Rabbit's Birthday
and
When Peter went to School
are available from
Kinder Cottage Publishing
for
$4.00
a piece. You can also purchase the other books in the series for
$4.00
a piece or
$30
for the 10 book set. Remember, these are nice little hardback books that would be an asset for any personal home library.