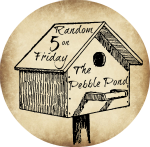 1. I made this apron for my SIL. 2. Books I'm currently reading.
3. Shade's new boots! 4. Trying out mom & dad's new bed.
5. The girls trying out their new bed. 6. Delani proudly holding
Destini's American Girl dolls. A very special moment.
7. All ready for bed.
1. We started up our full school routine, including co-op. Considering we had taken 4 weeks off I think it went quite well.
2. Delani did a "show and tell" at co-op. she showed her American Girl Itty Bitty twins, Lizzie and Belle. She was pretty hesitant and I had to ask her questions to get her to "tell", but I take the blame for that since I didn't start her practicing until a day before she was to do her presentation. Overall, she was happy, so I am happy.
3. I decided for right now to not continue with Apologia's Elementary Chemistry and Physics book. We are just not enjoying this book for several reasons. The main reason is I had already assigned some living science books and the Apologia book is making our science load top heavy. The second is that the kid's are enjoying their science books (Chantry is doing
War Inventions
by Charles Gibson and Destini is doing
It Couldn't Just Happen: Knowing the Truth About God's Awesome Creation
by Lawrence Richards) more than the Apologia book. I hope to come back to this book another year.
4. I twisted my ankle yesterday and walked it off and seemed fine until 9:00 last night. Then it started throbbing like all get out. Thankfully, it wasn't a bad sprain, but my ankle has been pretty tender today.
5. So with a tender ankle I had to deal with the arrival of new beds. Our girls share a small room. Destini had a twin bed and Delani had a toddler bed. Well, Delani is getting way too big for her bed, but we couldn't settle on what kind of bed to get. I HATE bunk beds and I couldn't see a trundle bed working either. Two twin bed in the room weren't a possibility either, so we decided to try a double bed.
Last weekend we shopping for a double bed and while in there it hit us that we might save money if we purchased a new bed for us. Our bed has been in need of replacing for a while and I have kept putting it off. Well, we bit the bullet and bought ourselves a new bed, too!
Today they both arrived, but of course this has required a major overhaul of the girl's room and cleaning in areas that haven't been cleaned for quite a while! So right now my house looks like a cyclone has hit out house. If I sleep good tonight, I'm not going to sweat it!
6. And one more just for fun. I posted this on my Facebook page, but this comment from my daughter is worthy of another posting.
Delani announced, "When I get married I'm not going to suck my thumb in front of my husband."