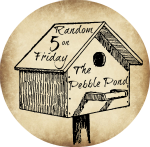 1. Birthday girl! 2. A new book in the Swallows and Amazons Series.
3. Delani loves to write her name. 4. Destini doing her demonstration
speech on making glass bead magnets. 5. I learned how to
make origami boxes.
Today's my daughter's 14th birthday so I am going to share five things about her.
1. Her daddy almost missed her being born. He went to get his lunch and she decided it time to be born. He did happen to walk in the door while there was a big rush to get everything ready. I don't know if he ever did eat his lunch.
2. At four months old she had RSV and had to be hospitalized and the next day put into the Pediatric ICU. While we were in the process of being admitted into the hospital and nurse told my husband that if we had brought her in an hour later she would not have lived due to her oxygen level being so low. By God's grace I never heard that comment which I think would have put me over the edge.. After 7 very long days she was released. Yes, she is a miracle.
3. She is my reader, but that almost didn't happen. I just knew when I started to teach her to read she wouldn't have any problems, but alas that didn't happen. She really struggled. Thankfully, God let me cross paths with another mom who's child struggled with the same issues and told me about vision therapy. At the end of the 15 weeks I had a reader on my hands!
4. She is one of my night owls. She loves to start talking about 10 pm and go for the next couple of hours. If she isn't talking than she is reading.
5. She has a great sense of humor and literally can make her brothers roll on the floor in laughter.
I am thankful that God has blessed us with her. Yes, I'm sad that she is getting older, but on the other hand I love watching her turn into a beautiful young lady with a heart for God.
So in other news:
It was my homeschool mom's meeting and we learned to make origami boxes. I honestly didn't think it was something that I would enjoy, but I did! I also discovered it is kind of addicting.
On the homeschooling front:
The big thing this week is that I had three kids who had something to present for co-op. It was Delani's week to do a presentation. She did two nursery rhymes--Humpty Dumpty and Diddle, Diddle, Dumpling.
She does confuse two lines in one of her rhymes, but other than that she did great.
Destini and Caleb did demonstration speeches. The problem was I kept forgetting to help Caleb with his "How to Juggle" speech and we were having a hard time coming up with something for Destini to do. We finally settled on Destini demonstrating how to make glass bead magnets. Well, they survived and next week they get to watch the rest of the kids sweat over doing theirs!
Chantry's presentation is next week. This week we will be working on a book report for his presentation.