So what is different about
Science for High School
versus other curriculum? Rather than reading out of a textbook and then answering questions the
Science for High School
is a researched based program. A student will learn research skills and also learn to time management skills.
The parent assigns the student work and gives a due date. During that time the student is responsible to get that assignment finished. Research can be done using a textbook, living books, or the internet. On the due date the parent and student sit down and the student tells what they have discovered. When the discussion is finished then it is time to do the lab work. Also, tests are included and it is recommended that the previous lesson's test be given before discussion of the current lesson.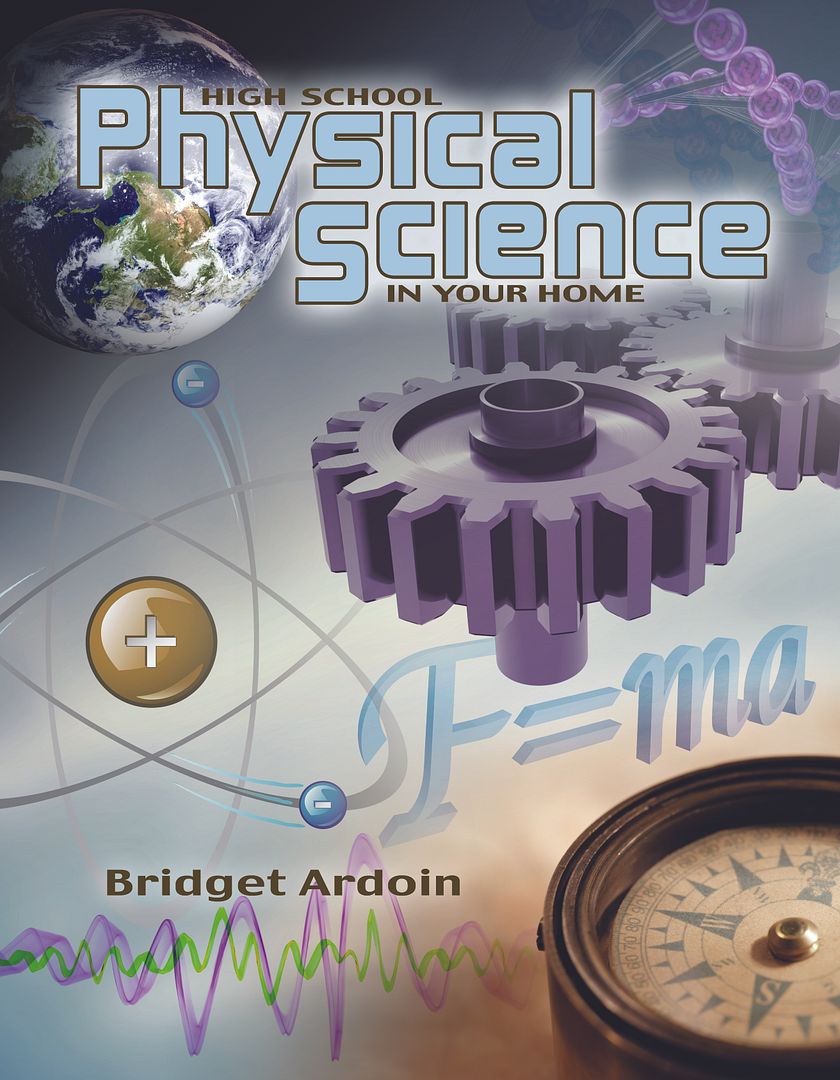 We received High School Physical Science in Your Home which comes with a Parent's Manual and Student's Manual. The Parent Manual is a spiral bound book which includes detailed explanations of for the labs and homework. It also has all the answers to the quizzes and exams. Quizzes and exams questions are also included.
The Student Manual comes in a pack and is three holed punched for the student to put in their own notebook. The lab assignment sheets are included in this pack also. The have detailed instructions to guide you through the lab assignment. Topics include: weather, atmosphere, water, astronomy, simple machines, electricity, chemistry, geology, and many more. You can see the syllabus and sample pages
here
(scroll to bottom of page).
I decided to let Caleb and Destini work together on this together. Destini isn't in high school yet, but I figured she could do the work. Caleb had previously done another Physical Science curriculum which was a disaster and I thought a little review wouldn't hurt.

When I first received the program I began searching my local library for books the kids could use. I picked a few that I thought would work and also pulled out another Physical Science textbook that we had. I showed the kids how to look for the information in the book and also provided the iPad so they could look things up online.
I found the lab assignments relatively easy to implement. I even had success in doing them with the kids, which is saying a lot. Usually when I do a science experiment is fails. Of the ones we did everything was in the house and we could do it right then.

Since it is summer time I didn't give them a due date, but they averaged a lesson a week. We then would go through the questions and they would tell me what they had learned. Usually it was at this point that I discovered there were some questions that they had a hard time finding the answer. I would help them look and there were a few times I couldn't find an answer that was close to what was in the Parent Manual so I let them take their answer from there. I also let them take the test with their notes.
I really have mixed feeling on this program. I really liked the idea of the student researching the topic. I also liked that the length of the lessons weren't overwhelming and very doable in a weeks time. The best part for me though was the labs were easy to implement and all the labs we did I was able to just walk around the house and find what I needed.
My biggest struggle was finding books. I love the thought of using living or real books, but honestly they were hard to come by and the ones that we had didn't always have an answer. My kids did a lot of research, but I'm not sure how well they were understanding anything since they didn't have much basis behind their research. By the end of the review period they were looking everything up online and looking to find an answer to the question which I think defeated the author's intent.
It would have helped me to have a list of suggested or recommended books that could be used. The only other way I could see this working in our house is if I had quite a bit of time to research books myself and then assign reading and then let them finish the research for the questions. By the end of the review period my kids were very frustrated.
I think for my kids style of learning this just wasn't a good fit. I know research is an important skill, but when you don't really care about the subject or have anything to make it exciting it only becomes a means to an end. That being said, I do think that
Science for High School
would be a great program for the science loving student or a student who finds delight in researching.