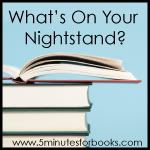 Wow! Where has the month gone? I felt like I just wrote out last month's nightstand post. Overall, my reading this last month wasn't too bad considering that my parent's came and visited. I got a little side-tracked and didn't get everything read from my April Nightstand. That's okay, though.
We will see what this month brings. Again, it is another busy month for our family. I have my own personal goals of what I want to read, but I keep coming across other books that pop up unexpectedly that I get a real urge to read right now. I know that I'm not the only one who struggles with "too many books, not enough time" syndrome!
Nightstand for May:
From my
March Nightstand
:
I am currently reading:
I also read:
I listened to:
Amos Fortune, Free Man by Elizabeth Yates - I got a little convicted that I assign my kids books that I've never read. This is a book on their free read list so I decided to listen to it so I am "in the know." This was an excellent story about an African man who was taken from Africa when he was a young man, sold into slavery in the United States, and then worked hard and eventually bought his freedom the freedom of several other people. He also set up his own business, married, and bought land.
Let me know what you think and stop over at
5 Minutes for Books
and see what others are reading.