Book Descriptions:
Falling For Rapunzel
The prince is hoping to fall for Rapunzel, but since she can't quite hear what he asks for, everything but her hair gets tossed out her window. Instead of her curly locks, she throws her dirty socks. Instead of silky tresses, out go lacey dresses. And you can predict the guaranteed-to-crack-kids-up clothing she sends down when the prince simply says hair. . . . Finally Rapunzel heaves out something that makes all the prince's dreams come true, showing how misunderstandings can lead to happily-ever-after.
Waking Beauty
Everyone knows Sleeping Beauty has to be woken with a kiss, except Prince Charming. Every time the fairies watching over her try to tell him, he interrupts with his ideas of how to wake her. Eventually he gets the message, and his reaction is priceless: One hundred years of morning breath Wow! That could be the kiss of death!?
My thoughts:
So I haven't featured many picture books here, but I wanted to mention these fun fractured fairy tales. Years ago when Destini was going through the princess stage we had read
Falling For Rapunzel
by Leah Wilcox. It was a very fun and enjoyable read.
Fast forward many years later and Delani is now in the princess stage and we are able to enjoy books we had read years before. This time while reading
Falling For Rapunzel
I noticed that the author had another book out,
Waking Beauty
. Delani enjoyed reading through these, especially
Waking Beauty
she was anticipating the word kiss to show up at any moment due to the rhymes in the story.
One of my main reasons for reviewing these books wasn't due to my 4 year old, but rather the reactions of her older sibling. Destini (13) picked up
Waking Beauty
and read it aloud to her sister, who I think actually ignored her. In the mean time she held her two brothers' captive (10 & 16) and the three of them spent the whole time laughing out loud and not in polite giggles either! Destini told me later it was one of the funniest books she has read.
On a side note: I was going to include a couple of lines from these stories in my review, but when I went to look through the books I discovered they were missing. Yes, my kids came in and stole them off my bed and are now currently re-reading them. I don't think you can get any higher praise than that!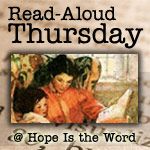 See what others are reading aloud over at
Hope is the Word
.