Book Description:
An engaging adventure story set in England during the time of the Civil War when King Charles was deposed and the Roundheads were vying with the Cavaliers. The central characters are the four children of staunch Royalist Colonel Beverley killed in battle while fighting for King Charles. Through the efforts of aged forester Jacob Armitage, the children escape the burning of their ancestral home and take up residence with him in his cottage in the New Forest. As his "grandchildren" they take eagerly to the peasant life and learn to provide for themselves by using their wits. The pitfall they build to trap cattle catches more than they bargain for, leading to one adventure after another. Against all odds they deftly maneuver through the treacherous landscape of the times, eventually recovering their family estate.
My thoughts:
The Children of the New Forest
by Frederick Marryat was a fun, exciting, and a book that is appealing to all ages. It may have to do that the kids are orphans. The four siblings have to live a life of the common man instead of being children of privilege.
Edward is the oldest and the central character of the story who struggles with his hatred for the Roundheads and hiding his identity. Humphrey is the second oldest and with his ingenious ideas provides a lot of excitement. The younger two sisters, Edith and Alice, adapt to their new life and help provide food and comfort for their brothers. The story follows the antics of the siblings as they survive in the New Forest. When Edward meets up with the new intendent, Mr. Heatherstone and his daughter, Patience, life begins to get very interesting and it becomes harder to hide his true feelings and identity.
This book was our literature selection for Term 2, in
Ambleside Online's Year 3
. I have to admit that this wasn't the easiest book to read aloud, but it didn't seem to bother my kids. They begged for more.
The Children of the New Forest
is a wonderful piece of historical fiction and I definitely recommend it as a read aloud!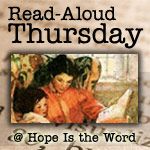 See what others are reading aloud over at
Hope is the Word
.