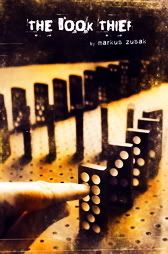 While browsing the book tables at Costco I happened across
The Book Thief
by Markus Zusak. A book with a title like that is bound to catch my eye and draw my interest! After ordering it from the library I had read a couple of reviews and was a little hesitant to read it. When it arrived the book sat on my stairs until I finally ran out of fiction reading material and The Book Thief was all that was left to read. So I hesitantly picked it up and started reading. It didn't take long before I was engrossed and fascinated.
Book Description from
Random House
:
It's just a small story really, about among other things: a girl, some words, an accordionist, some fanatical Germans, a Jewish fist-fighter, and quite a lot of thievery. . . .

Set during World War II in Germany, Markus Zusak's groundbreaking new novel is the story of Liesel Meminger, a foster girl living outside of Munich. Liesel scratches out a meager existence for herself by stealing when she encounters something she can't resist–books. With the help of her accordion-playing foster father, she learns to read and shares her stolen books with her neighbors during bombing raids as well as with the Jewish man hidden in her basement before he is marched to Dachau.

This is an unforgettable story about the ability of books to feed the soul.
One of the reasons that this book caught my eye is that it is set during World War II. I felt The Book Thief gave a different side of the was since it set in Germany. It is interesting to see how Liesel doesn't really realize that there is anything "wrong" in Germany, but as the story progresses she slowly realizes the evil that surrounds her. Liesel learns from her books all about the power of words never dreaming that they would save her life. I was saddened when the end came (I even needed a Kleenex), but the story is one that just stays with you and gives you food for thought.
I did have a couple problems with The Book Thief. First off, the book has a narrator and I found the narrator really irritating to me. The narrator seemed to break up the story too much, plus he kept giving away information I would have preferred to know about when it happened. The other thing really has nothing to do with the book, but who it was marketed to. I was floored this was marketed as a young adult book, though when first published in Australia it was marketed as an adult book. The language alone would be one reason to NOT market it to young people, but who am I? It is unfortunate that immature American young people are exposed to ideas that they probably aren't ready for or are too young to understand.