We are attempting to do a small garden this year. I saw this these
Crafty Garden Markers
over at the
Make and Takes
blog.
This required picking up a small package of craft foam at the Dollar Tree. Also, I needed some colored permanent markers. This wasn't a problem since I have been needing a reason to get the BIC Mark-It 24 pack of markers ($10) at Wal-mart. (These have been calling my name since I saw them a few weeks ago. Funny, these caught Caleb's eye the minute I brought them home. He has taken claim of them, giving us instructions on how and in what order to put them away.)
I sat down and hand drew the vegetables we needed and Destini and Chantry outlined them with the markers. Here is sampling of our handiwork: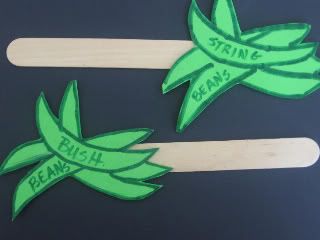 Destini and Chantry showing their work.