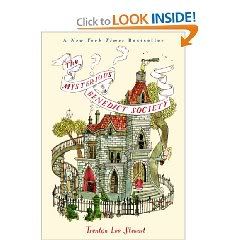 The
Mysterious Benedict Society
was another book that I have read a lot of reviews about how great this book was. I had ordered it from the library and tried to read it, but I couldn't get into it so it went back. But again I kept finding reviews about how good this book was, so I ordered it again and started to read it again. Here is the description of the book:
"Are you a gifted child looking for special opportunities?"

When this peculiar ad appears in the newspaper, dozens of children enroll to take a series of mysterious, mind-bending tests. (And you, dear reader, can test your wits right alongside them.) But in the end just four very special children will succeed. Their challenge: to go on a secret mission that only the most intelligent and resourceful children could complete. To accomplish it they will have to go undercover at the Learning Institute for the Very Enlightened, where the only rule is that there are no rules.

As our heroes face physical and mental trials beyond their wildest imaginations, they have no choice but to turn to each other for support. But with their newfound friendship at stake, will they be able to pass the most important test of all?

Welcome to the Mysterious Benedict Society.
I found this story very slow going. I even took a peak to see the genre (beside children's) only to find out it fell in the science fiction catagory. I don't think I've ever mentioned how much I dislike science fiction. Even as a kid I avoided it. Well, I decided to keep reading to see if I could be convinced to like the book. My conclusion is the story was okay. I don't feel it is the best book I have ever read and don't need it for my personal library. That being said, I could see how this book could be exciting for someone who enjoys this genre of fiction or for a kid. I think I will get it on audio book and let my kids listen to it and let them make the final choice.